Sabiá + Tsoft :: How proprietary content generates engagement and increases LinkedIn's organic growth by 300% in less than 1 year
Tsoft is one of the main technology companies in Argentina. It offers specialized services and partnerships with the main software manufacturers with the objective of transforming businesses through the intelligent use of IT.
THE CHALLENGE
Tsoft brought to Sabiá the challenge of creating a consistent brand presence on social media that addressed technical topics in a proprietary way. At the same time, the message needed to be conveyed with simplicity, creativity, and innovation.
THE PLAN
To achieve the objective of highlighting the brand and creating proprietary content, we performed a benchmark of companies in the sector, which showed that the approach used by them was very similar to one another. Therefore, to stand out from the other competitors, we needed an effective, innovative content strategy that was aligned with the trends.
THE SOLUTION
We had the idea of creating relevant content that could make the audience relate to such content in order to enhance the brand's image. Thus, we would have a more dynamic feed with diversified formats, with videos, GIFs, memes, 360 degrees, offering a good experience to followers and, at the same time, guaranteeing a brand association by means of visual identity. 
We have identified a user profile that makes perfect sense for the brand's new initiatives: the technology geeks. These people are those who love tools and how they can help them in their daily lives. They are the programmers, IT managers, just to name a few.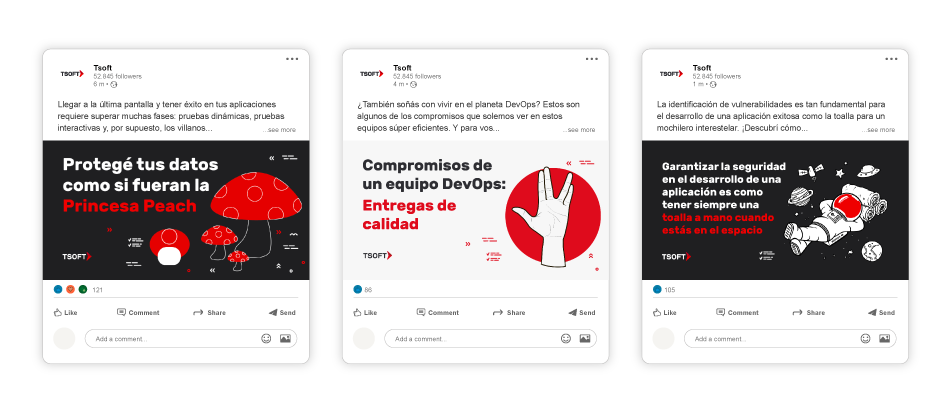 Tsoft's LinkedIn page had 16,623 followers in March 2020. We started publishing a type of proprietary content that was different and had a unique language that aimed to connect pop culture themes with the software and services offered by the company.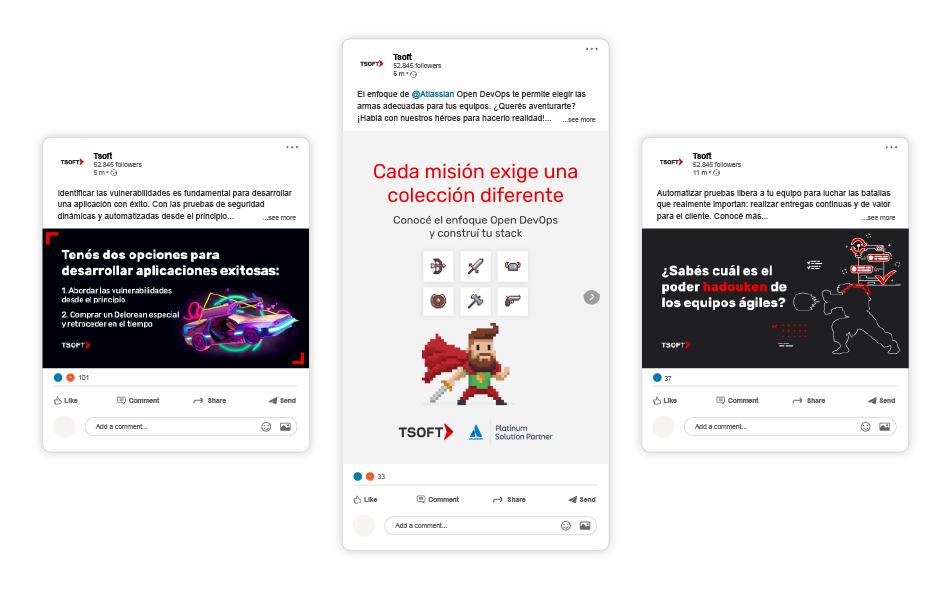 We used the brand's colors (black and red) in the image as a symbol of the technological and innovative universe that Tsoft inhabits and builds. We also worked with sketches of illustrations that matched the theme of each post.
The proposal was to keep the title highlighted to facilitate its reading and visually balance the composition. We did so by always keeping playful elements in the visual language, drawing people who work directly on the subject even closer.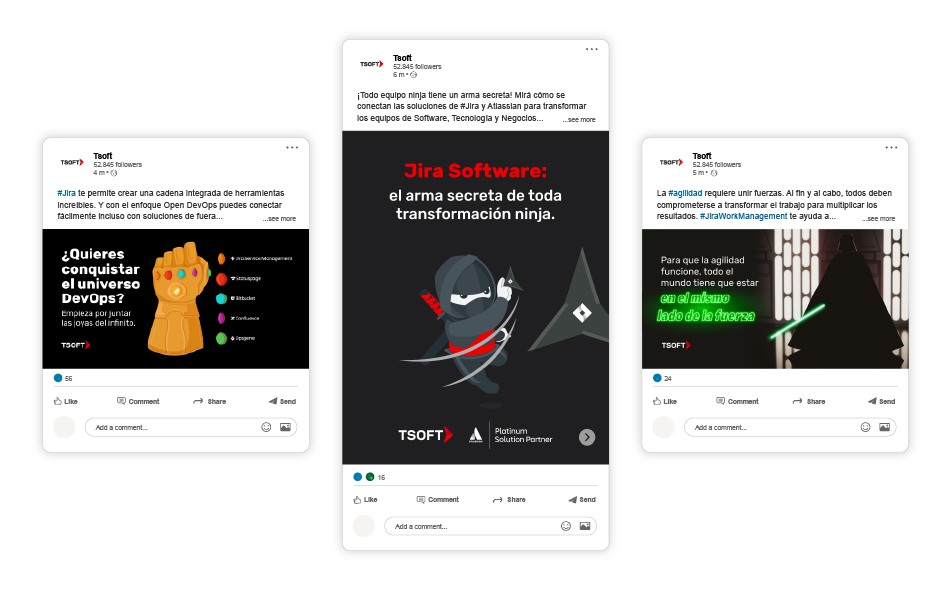 Thus, in less than a year the number of the page's followers more than doubled to 51,286 — and all organically. 
This approach was able to show how Tsoft can help IT teams on a daily basis with the right tools, agility in innovation, and on-premises infrastructure.
RESULTS
• Creation of a unique identity
• The number of followers increased organically by 300% in less than 1 year, with no investment to attract the audience
• Significant increase in their employees' engagement 
Segmento: Consultorias, Empresas de Serviços, tecnologia, TI e Telecom